Summer is the season where women love to wear playful, light coloured casual dresses to flaunt their style. It's really hot out right now and this means that you really can't add extra layers to your body. It's time to shop for trendy summer dresses. There are so many options in the market to choose from and it's a hard task to pick something that is really worth your money. Summer is a season that opens a plethora of options to buy super pretty printed bikinis for the beach, loose maxi dresses to soft cotton sweatshirt sets, from posing in criss-cross neck tops to sipping mimosas in midi dresses. To make it much simpler for you, here are 5 "must-have" clothes that you need to stock for the summer heat wave.
Long Dresses – Airy companion for the summer
Long dresses in summers that are light and breathable are go to dresses one will always drool about. They are everywhere available for you to enjoy the feels of glazing hot sun days. Long dresses with georgette fabric feels great on the skin. These long dresses are pretty much versatile. It can be worn anywhere and everywhere. Even women who are pregnant can wear these long dresses like the one that's given here.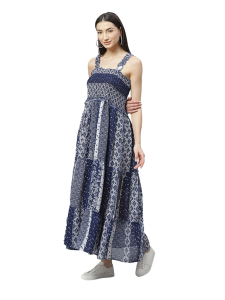 They can put up with the size of the growing bump while keeping you stylish and comfortable. To pull up this kind of look you can pair it with a pair of white sneakers or classy wedges or prolly weaning flip-flops for lunch dates, café meetings or weekend shopping. Amp up your fashion quotient effortlessly with stunning floral dresses from Myshka. The flow of this dress is full in length where it's loose and breezy to wear in sun-filled days and balmy nights. The blue and white combination of the dress will make you feel cool and the style flow of this dress makes you feel relaxed in these hot glazing summers of your area.
Jumpsuits – Iconic chic one piece dress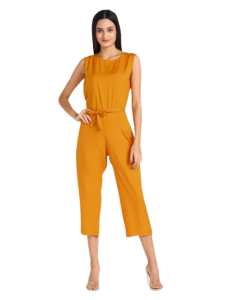 Searching for online summer dresses, the only iconic piece of fashion cloth that comes to our mind is a jumpsuit. One of the most flattering dresses that doesn't need much of other clothes to add on to are these jumpsuits that you get online for low prices too. They are flattering, stylish and an easy to wear piece of cloth that you will ever own. A jumpsuit actually defines your waistline which makes it one of the most flattering pieces to wear. It is not just summers that you can hop into but overall other seasons too.
This solid colored fashion piece is flattering and is blended with rayon fabric where it is sweat free when worn in summers. Life gets easier when worn in summers and for women who have to go to work everyday, it is such a relief for them. You can get these heaven made dresses online at low prices. Just a piece of advice for this beautiful one piece is to wear heels in this yellow colored jumpsuit to pull over the look.
Striped Floral Print Bell Sleeves Dress – Vibing all summer!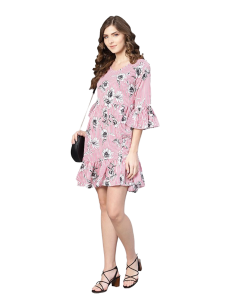 Bell sleeves and summer vibe along really well. The lazy summers or the cocktail parties of this summer season is the best way to resonate with bell sleeved dresses. The bell sleeved dress from Myshka has red and white striped floral print that makes it look pretty like the one given here.
tml This bell sleeved dress is for those who love this look and also avoids the hassle of keeping your sleeves out from the food you eat all day long. Perfect for a weekend gateways when teaming them with dual contrasted colored sneakers inclusive of colors like black and white. Scroll them on LOVZme website section and buy it in affordable prices online. This is a light and beautiful dress to pick up.
Double Slit Kurti – Flaunt it the way you own it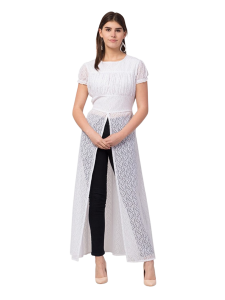 Thinking about wearing something cool and refreshing in ethnic wear this summer, all you think about is this double slit kurti that women love to shop these kurtis online. This pretty double slit dress is light and breathable and looks quite stunning when you carry this kurti in heels. It helps you to look tall and in this season it helps you to flaunt your style. Here is LOVZme's favorite cotton double slit kurti dress that you shouldn't missing it this summer at all. Cotton fabrics are sweat absorbent and they are usually the best fabrics to wear in summer. It's pretty cool to wear a fabric that can evaporate the sweat than to drench in one. Isn't it? This white double slitted cotton kurti looks pretty in both jeans, jeggings or leggings. In summers, white looks really pretty, it keeps your mind chilled and relaxed. Can wear this slit kurti at friend's parties, shopping malls or to your workplace just in case informals are allowed.
A-line dress – Smarties walk in symmetricals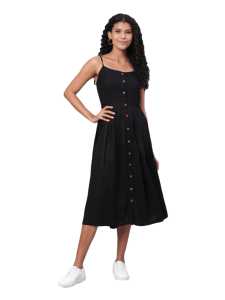 Women love to wear fancy dresses and mostly those dresses trending online. A-line dresses look elegant on women when they choose to wear these dresses. These dresses enhance the look. This dress is A-line dress that is made from cotton fabric and it is also has adjustable strap properties that lets you tighten or loosen according to your measurements. In addition to this just in case you are crazy about Indo-Western look then you can also wear a denim jacket on top with this dress. Buy this Myshka black solid colored cotton dress from LOVZme and get ready to reform your look. Team up with your favorite pair of sneakers when you buy this dress online at a low price. This summer season revamp your style in your closet. You can wear them while you go out for staycations and meeting-over a friend. Summer has already arrived and to be equivalent to it's raising temperature's equation you need to do smart shopping from LOVZme and add everything that catches your eye to the cart as this blog scoops all the must-have clothes that you need to have in your closet. What are you waiting for? Start swooning over these double tap worthy LOVZme's summer collection and shop now. Just in case you don't want to wear two piece garments you know there's one garment in summer that has your back covered and it's none other than jumpsuits.