Indian festivals are never complete without traditional Indian dresses. They are always vying to be among the best of the best, the top tier. Indian festivals keep us alive because they are celebrated all over the world.
As you all know Diwali is around the corner and you all want to wear the best outfit for this Diwali. Being complimented while wearing your favourite Diwali attire adds to the festive spirit. You want to make sure your accessories match your dress and the vibe you want to project for Diwali 2021. The heavy embroidered saree works to layered pompoms anarkali to ruffled gowns. We have seen it all isn't it?
Traditional ethnic clothing never goes out of style; instead, there are a plethora of options, and ethnic outfit ideas for festivals; always maintain their inherent charm. Choosing the best one out of hundreds of options becomes a little more challenging.
The handwork that artisans do on these ethnic outfits is one of the blessings that every woman has in their wardrobe. The art that is produced where they lay their hands on is just so incredible. Their artwork is a gift from them to us. During festive seasons the sights of huge collections of outfits are all over the stores. The excitement that rushes from your hearts to your hands going inside the purse to spend is good for "the perfect outfit for you."
No doubt your wardrobe must be full of traditional Indian and western outfits to count on but I bet you would love to know so that you can spice things up a bit more and stand out of the crowd as you walk by. Hurry up to opt these bombastic ideas to make your Diwali rock this 2021.
---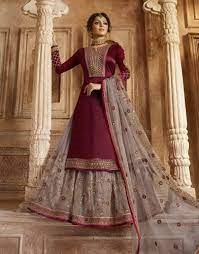 Versatile designer kurtas will always be your best companion you can put up with
You see how designer kurtas could lessen your worries in just one sentence. These designer kurtas can be paired with lehengas or skirts to give the ethnic look. You can have a heavy traditional look when wearing lehengas to show the ethnicity of the co-ords.
If you have the kurti set then you have an advantage to flaunt the combo on various occasions.
---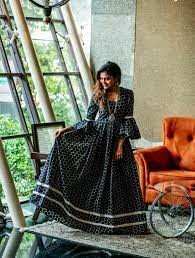 Get comfy with ethnic maxi dresses
You can always chill around with ethnic maxi dresses. They are trending so much right now that you can totally vibe with it any time of the occasion. You can get comfortable in these cozy slips of maxi dresses around your waist.
Trust me you will love wearing it even at your workplace and not just for Diwali occasion.
---
Reign this Diwali with some fashion belts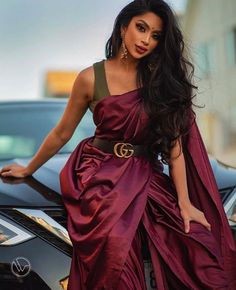 Yes, fashion belts. You read it right. Turn up the volume with some good music to groove to. You are going to do some traditional and modern fusion out here.
You can always use fashion belts while wearing Anarkalis or a kurti with ghangra pants to make it look elegant and complete.
---
Mix-Match and Wear it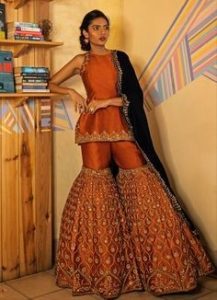 You always want to try something new when it comes to dresses for occasions or festive seasons. You want people to look up to you so you need to get a little out of the way of combos coming in the original piece. Try creating new combinations out of the existing ones.
Try in pieces to get the look with different pieces. Like get churidars with palazzo pants, asymmetrical kurtas with gharraras. Try creating a different look while wearing the pre-existing pieces.
---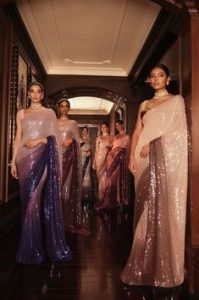 Flaunt sequins and get the limelight
Flashing sequins looks like you are walking in glitter. Confidence carries you to different layers. Sequin sarees or sequined dupattas in plain silk kurtas can always be a way to flaunt that glitter and spark out of you. Try wearing a sequin scarf folded around your neck while you wear some metallic saree to shimmer in the limelight.
---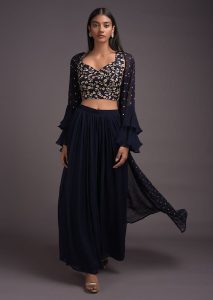 Bomber with the crop top
Get your chic and comfy look with these awesome crop tops. Add a plain long crepe fabricated jacket and hard rock earrings or stud earrings. Flex around the town this Diwali with this modern look. Save yourself from being blouse-less and wrap your favorite festive saree.
---
Sign your outfit statement with an accessory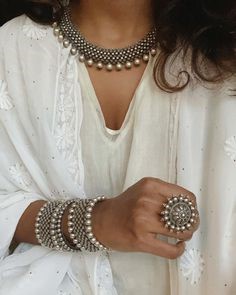 Face masks have just joined the ranks of great friends for your clothing. They come in varieties of hues, chains and designer bows. They are also embellished with asymmetrical designed stones and pearls. Jewellery inclusive of big chandelier earrings, shoulder dusters, oxidized earrings and choker necklaces are must haves. Ornate yourself with these and have an astounding collection for this festival.
In the end I would like to sum it up that this festive season goes extraordinary while trying out the ideas you just read now and being high on the Desi vibes. Wave your dupatta in the suit, bling in the lights of sequins and embellishments. It never runs out of being subtle and classy. Have your mixture piece wear together and get the designer look.