Women: "I am an era. I am a movement. I am a superior being. I am the battlefield ground where victory smells as fresh as morning flowers. I am an emotion of the bonds. I am the voice for the unheard voices. I am an accomplishment when being born as a woman. I am the change. I am the strength that is built in every step. I am the world. I am the nuance of peace. I have my own depth and inches to measure. I am the blood of a woman. I am power. I am the life carrier. I am the year. I am a woman."
Women's fights for gender equality and equal rights have a long and inspiring history. Many people will find it difficult to rejoice right now. We've just experienced a painful epidemic that disproportionately harmed women at work and at home for the past two years.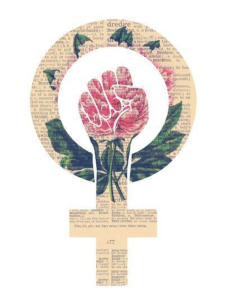 We women are all over the place, everywhere, and will continue to be born and discovered on a regular basis. Being born as a woman is a powerful thing, and combining that high level of deep intelligence, emotions, bonds, characterism, personality, and color into one full gorgeous form of being is even more powerful.
On our bad days, women from all over the world trot around, falling, sprinting, flying, working, calculating, battling, caring, staying strong, and doing everything they are capable of. A woman is born with the strength of an army and the golden heart of caring of a queen, multi-talented, polished and poised, strong and graceful, ambitious and supportive, independent and resilient, and always works around the clock at home, at work, and on herself.
Ladies are kind mothers, lovely daughters, loving sisters, hard working leaders, diligent creatures, wonderful wivies, and brilliant women who wear their abilities on their sleeves. There are times when women must think hard and make difficult, awkward decisions and choices in order to get where they want to go. Women believe in empowering others and assisting one another; they are unstoppable in achieving the goals that they deserve.
Know that it will be a long road with many challenges; you may even question yourself at the cost of situations and emotions; nonetheless, you are the alpha woman, and you must continue. There's a lot more to do, see, and experience, including getting on that darn boat and going to all those sites. Continue on, be happy, love yourself the way you are, learn about yourself, and never forget that you are more than you believe you are. The limit to your dreams and your goals is you. It's on you what you want. Ladies, keep going!
Today, more than ever, it is important that women make a big deal about International Women's Day.
Happy Women's Day Fellas! BE you-tiful.