Kurti– easy-breezy apparel that makes a fine addition to our wardrobe. This versatile garment in different styles caters to all our wardrobe garments. Kurtis can even give your look a contemporary spin when paired with statement accessories, denim, and gorgeous sandals. Whether you're in the mood for a desi girl avatar or an Indo-Western look, Kurtis is the perfect clothing pick for all occasions. These elegant ethnic pieces promise style and comfort all throughout the year. Available in various styles and designs, a Kurti can easily amp up your basic attire. It can even get you party-ready in minutes if styled to perfection– be it a pair of denim or palazzos.
Add these stylish and chic kurtas to your wardrobe right away. You will not be able to just pick one from these, So Keep Scrolling…
Stay in Fashion for a Long Time with Long Kurtis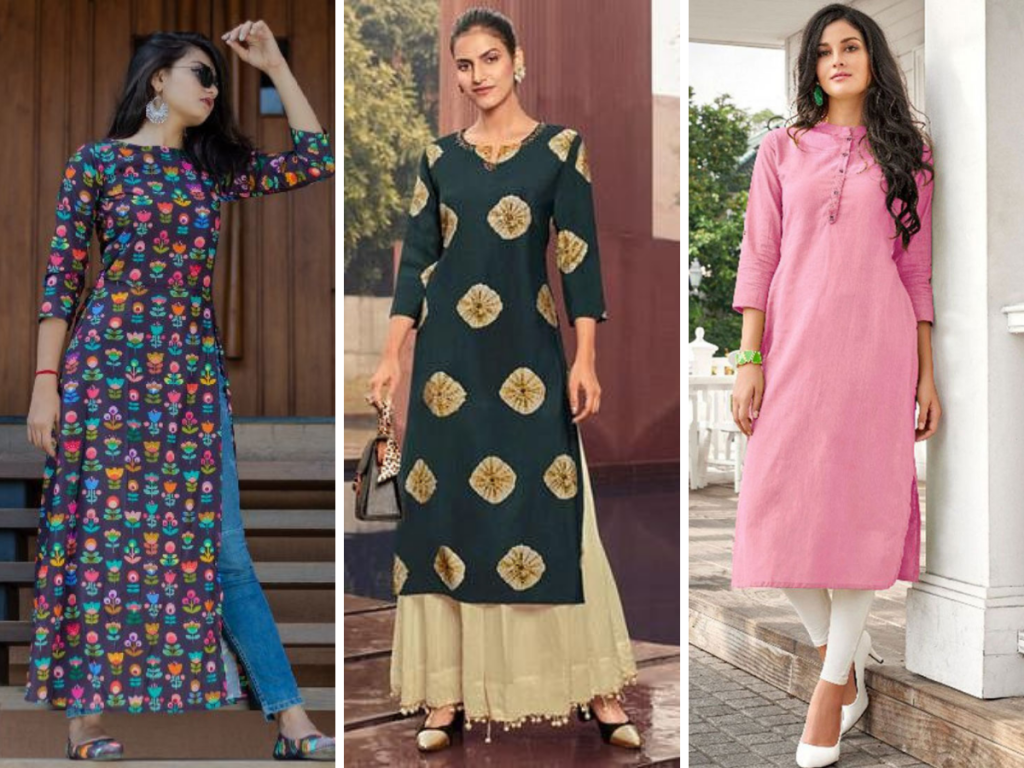 These kurtas usually stop or drape slightly below the knee. They can be paired with leggings, for a quick and easy daytime outfit. These Kurtis are a huge hit for the short apple-shaped community as it creates an illusion of being tall. If you're transitioning to a fancier or more traditional event swap the leggings -> for some Patiala or salwar pants. Voila – you have yourself a perfect salwar outfit! And if you have any other salwars lying around, use the dupatta to mix and match your own outfit. Add earrings and flats to add a pinch of sophistication to the outfit!
In the summer, you can convert the kurta to a dress and pair it with some cute sandals. You can use a long kurta bigger than your usual fit as a coverup on your next beach vacation, too. Throw it on top of your swimsuit and the slightly baggy yet chic look will turn heads on the beach!
Make them stare with your gorgeous Anarkali at the next shaadi!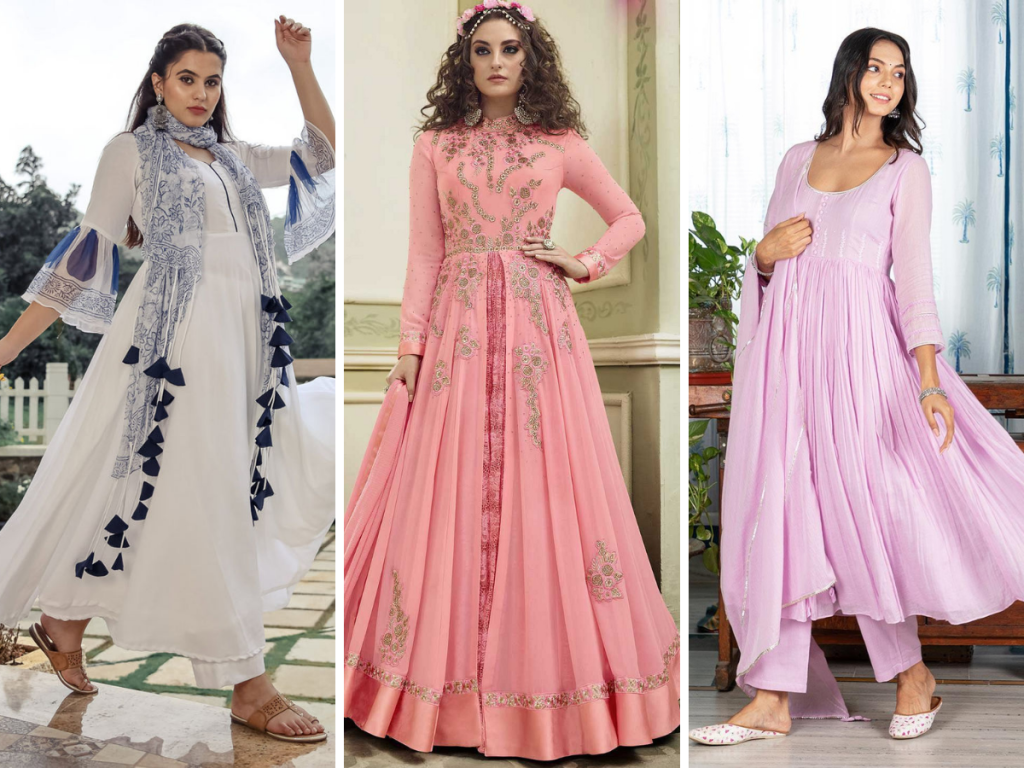 The Anarkali style is liked by women of all ages due to its flares and frock-ish pattern. Its slim-fitting nature makes it perfect for those having a body with more pronounced hips to flaunt the jaw-dropping curves. Anarkali Kurtis add a fun and flirty twist to the standard Kurti silhouette. Wearing this Kurti will make you want to keep twirling around and make you feel flowier and weightless. It is a good choice for any wedding or formal occasion as it looks regal and ethnic. They can be a bit fancier with embellishments, tassels, and beading. They can also be more casual with patterns and pockets.
Just like all other types of Kurtis, you can pair these with various types of bottoms depending on the occasion. You can dress them up or down and embody the 'Wear Now / Wear Later' mantra. If you pair the Anarkali Kurti with leggings you can easily wear it comfortably during the day and transition it to night time as well by adding a splash of color with jewelry or heels. If you're feeling bold, you can wear it as a dress during summer and skip the bottoms altogether! Since most Anarkali Kurtis are at least knee-length or below, they make the perfect maxi dress.
Turn Heads Wearing a Jacket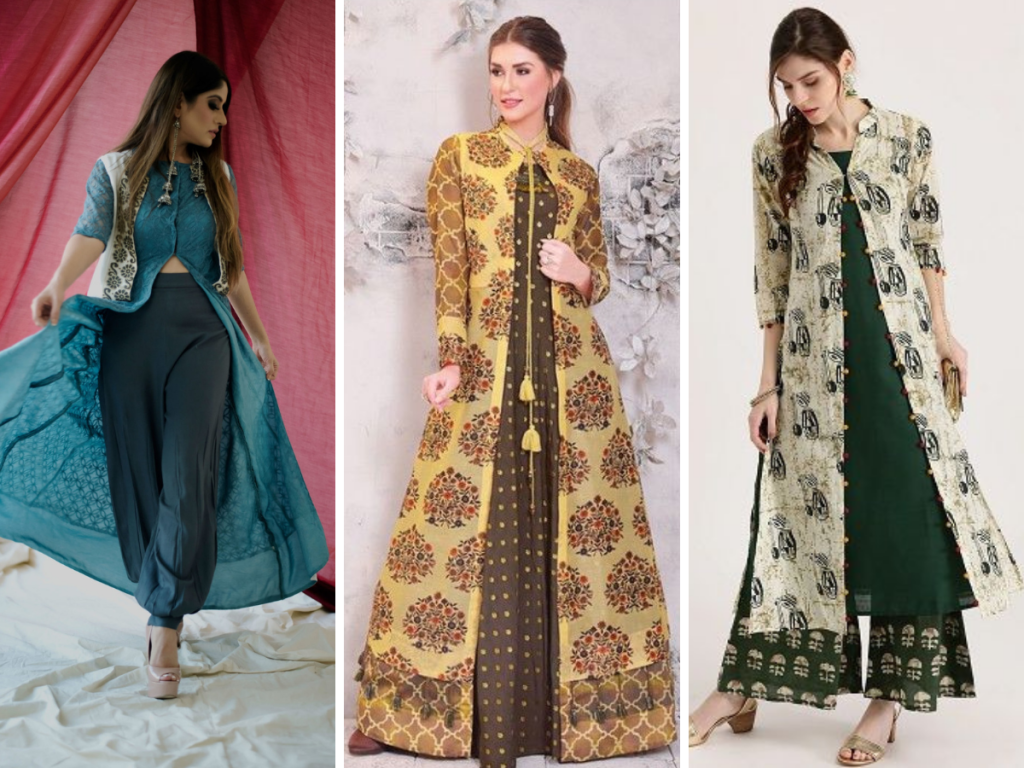 An easy way to elevate your style game is by donning Jacket Kurti. They are made for days when you feel connected deeper to your roots but want to look cool as ever! This has taken the Kurti fashion to a whole new level. With the jacket on top, you will have moved a block higher with your fashion style. Its versatility makes it ideal for any type of setting; either casual or professional. If you are all about ethnic outfits, then this one is for you. Pair it up with classy cigarette pants or palazzos and you will have yourself an edgy look. You could go all out with embroidered jacket Kurtis and dhoti pants. Brighten up the outfit with jhumkas and Punjabi Jutti!
A- line Kurti ~ 'The Indian Avatar'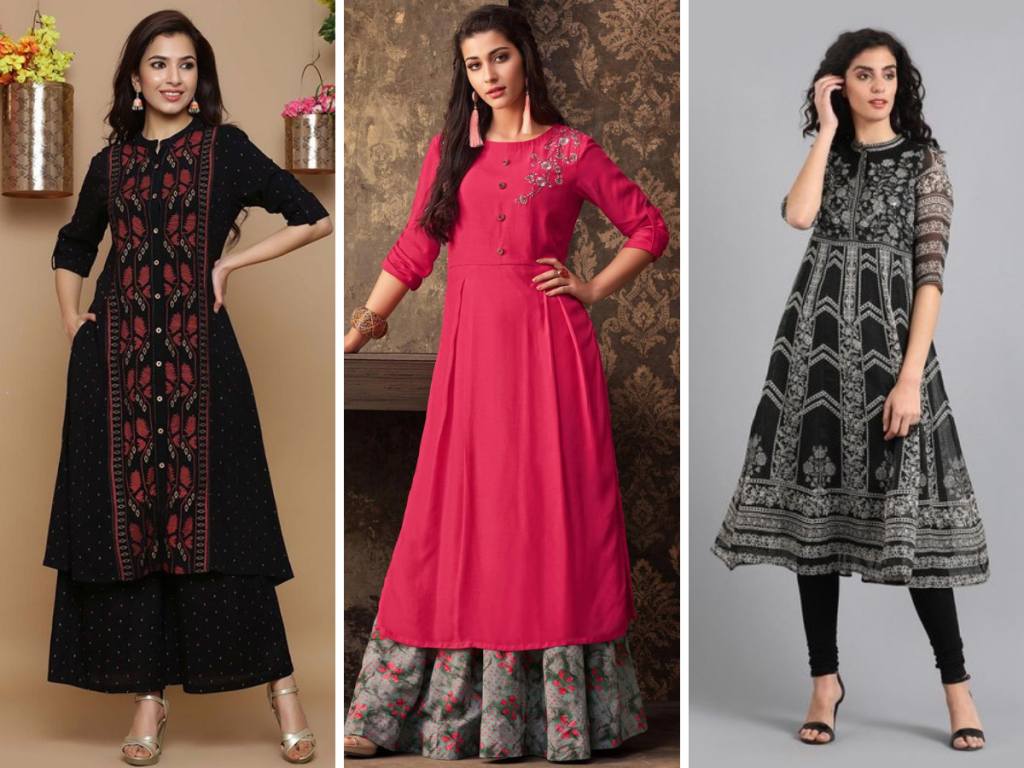 An A-line Kurti is one of the trending Kurti designs that are a must-have in your wardrobe as the ethnic ensemble will never let you go wrong and will ooze elegant style. This is the most commonly used silhouette in ladies' ethnic kurtas. These are single panel kurtas, fitted from the shoulders to the hips, and gradually flared from the waist making an 'A' shape. It can easily be twinned with skirts or other bottoms- churidars, leggings, palazzos, Patiala, or pants. They can be worn as casual or festive outfits at college, office, daily wear, or parties. The latest trend in A-line Kurti is tie-ups on the waist to give you a slender look and bring up the ethnic quotient.
Asymmetrical Kurtis are perfect for the festive seasons!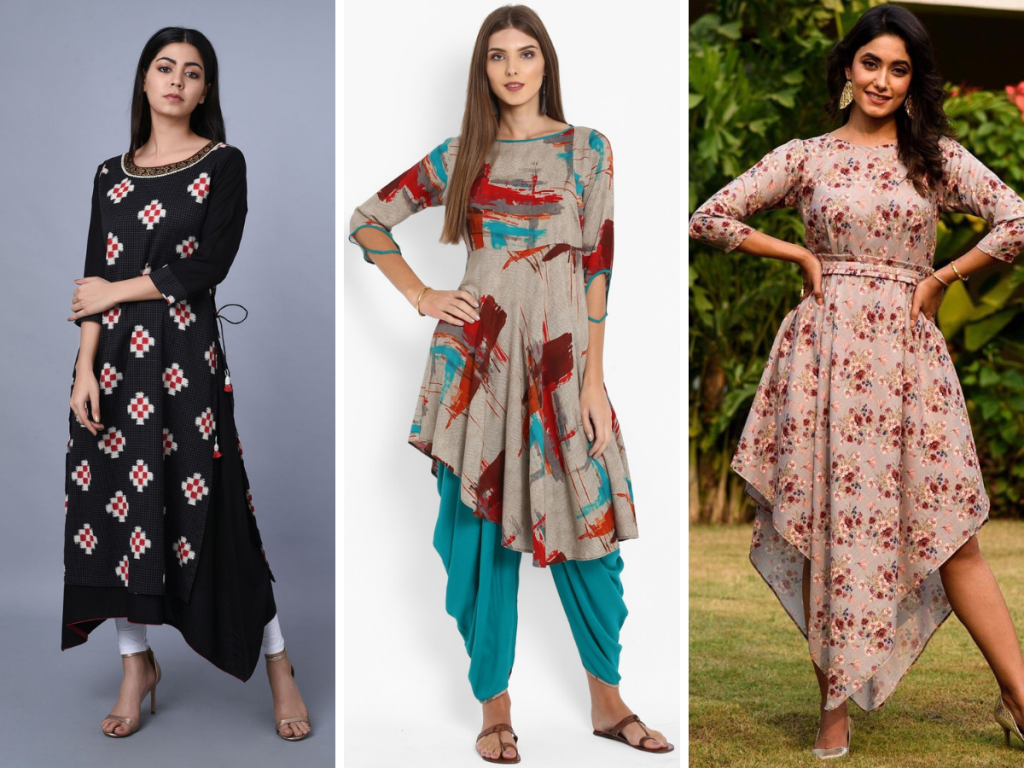 Last but not least, break the boredom of Kurti designs by dressing up to the asymmetrical Kurti. The shape of this Kurti upgrades the Kurti designs and gives you a refreshing look. Another beautiful asymmetrical Kurti is a high-low Kurti that has been in trend for ages but this is out of the ordinary. Designed in an asymmetrical pattern from the top going downwards, it makes for the perfect go-to Kurti for you who has a keen eye for uniqueness.
With this one, you can choose to either go bottomless or pair it with bottom wears like cigarette pants or leggings to give that elegant look. However, denim jeans are a big no-no for this piece since they will totally put the whole outfit off. These Kurtis for girls have a unique fashion quotient to serve with the lower backside and higher front side cut. Moreover, these high-low Kurtis are the perfect option for college-going girls as well as for small gatherings.
So Gals, get ready to update your wardrobe with Kurta Staples that every woman should have in her closet. Pick any of the above Kurtis for any occasion and with the right accessorizing it will work wonders. Moreover, these trending designer Kurtis can complement your ethnic style as well as Indo-western fashion sense. They give a very classy and elegant twist to the everyday look. So, you can try all these latest styles of Kurtis and become the trendsetter of the season.