Sarees for women is the constant fashion quotient that changes in every season – and in all these decades of saree fashion styles, collections and limited editions of these beauties have always been a thrill for Indian women. When you order sarees on social media, there are millions of styles in sarees. These online saree shopping websites have a huge collection of saree's categories at low prices be it party wear sarees, designer sarees, casual wear sarees, office wear sarees or bridal sarees. These versatile elegant garments have a huge collection of fabric material that is weaved from all parts of the country. The designers come down together from different cultures and regions of India to get these exquisite garments reveal their true essence. While the designers and weavers are the initiators of the sarees that trend but actually it is the women around the world who decide which styles are here to stay. 
Upgrade your shopping skills when you buy sarees online India at reasonable prices for this season. There are so many types of sarees and each have their own stories to carry while you walk in them. Banarasi sarees have their glossy brilliance, complex patterns, organza silk sarees are known for their sheer crisp texture and elegant shimmer that it sparkles, zari saree known to have silver and gold metallic thread work and silk sarees known for its lightweight and airy feature. 
Talking about silk sarees, they never fail to flatter people when it comes to showing magnanimity, 6 yards of glory and its amazing glossy features. These sarees are grand looking and the most beautiful part of the story in a woman's life. Silk sarees are weaved through powerloom and through the amazing silk thread of mulberry.
Let me tell you that silk sarees go very well with festive wear, celebrations or weddings because all you have to do is be the limelight of the crowd in that rich silk. 
Let me tell you 5 reasons why you should be aiming for a silk saree this season!!!!!
Silk stocking with a grand look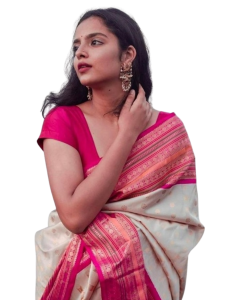 Silk sarees have this attention grabbing look with its shiny look with a soft feel of the fabric. When these silk sarees are worn perfectly, it looks charismatic giving you a grand look to the festivals that you attend. Women do online saree shopping to save plenty of time and to see the varieties that are available in all one. There are designer silk sarees also available at discounted prices when women shop sarees online. 
Different styles for different types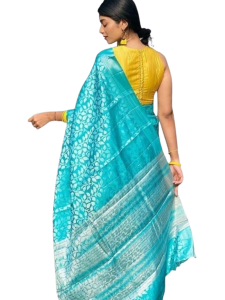 Purchasing sarees online in India comes with plenty of fish in the sea. Wide variety of saree collections are available online from all over India. Silk sarees have many kinds of variations in handlooms. You must be knowing the famous banarasi sarees, Kanchipuram sarees, ilkal Sarees, Assam silk sarees, chiffon silk sarees, bomkai silk sarees, tussar silk sarees and chanderi silk sarees. They are draped in different styles and how women want them to showcase. After all, it's women who know which draping style suits them the best.
Never out of fashion and can be worn anytime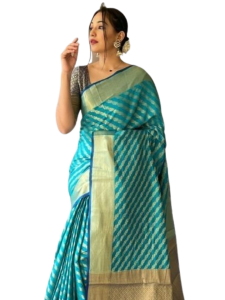 Silk sarees are evergreen and are a legacy creator in women's wardrobe. Silk is a natural fiber thread. The best thing about silk sarees is that they can be worn in any time of the year and in any temperature. Silk sarees are suitable for hot summers as it is light, soft and has an airy texture while during winters it keeps warm air intact to the skin due to its low conductivity. Women when they order sarees online for a good price they want their sarees to last for a long time. As you know sarees for women are treasure holders of memories.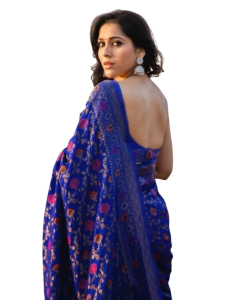 As mentioned above, these grand evergreen sarees come in all price ranges. You can buy sarees at low prices when you shop online during the festive season. These silk sarees have a wide range of designs and variety starting from as low as 1k and ranges up to 50k+. You can afford these silk sarees online at the lowest price according to your preference in designs and quality.
And of course, when buying silk sarees offline they can hit the bargain basement if negotiated well. 
Silk sarees will always stick around you for a long time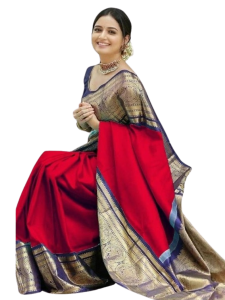 Silk sarees are known to last for a lifetime because they have the best durability. Women shop for sarees that long for a long time and silk sarees are something you should be looking for to add them to your wardrobe. A silk saree can last for years if you maintain them properly and who knows you can pass it on to your future generations with the novelty silk sarees. When a silk saree is maintained properly, even after years you can wear them occasionally as they can look rich, new and grand. Silk sarees are versatile, delicate, satiny, luxurious and plush, so no matter which type of silk saree you opt for they will always stand out whether you attend office corporates or weddings or parties or festive pujas; they are all-rounder and outstanding.
Remember that you can buy sarees online at low prices but maintaining them is in your hands. To keep their shine for a long time keep these points in your fingertips. 
Do hand washing and never make a mistake of washing them in the machine. Machine wash can spoil the fabric of the saree. Soak it in shampoo water and then wash it off with normal water. That way you would not want to crush the fabric of the saree. So always remember never to make a mistake to put the saree in the machine wash.
If your silk saree is stained then mix white vinegar and lemon juice and apply in the stained area. You can leave it for 10 minutes and then wash the saree with normal water. The stain on the saree will be removed.
Never wash the silk saree with hot water because it can spoil the saree completely.
Silk sarees should not be dried in the strong sunlight because the color of the saree will become lighter. These sarees should always be dried in dark places or in the shade.
When shopping for silk sarees remember that you are not supposed to squeeze, dry them with a dryer or rub them vigorously at all. You don't want to ruin your silk saree that you bought it with whilst being so happy.
Silk saree have so many legacies to make in a woman's wardrobe and with that a silk saree should never be kept in one fold for a long time. Keep refolding the saree from time to time. Silk sarees should be kept by tying it in a cotton cloth or by putting them in a saree cover. Do not hang the silk saree directly in the hanger.
The most important and the main thing that many women struggle with while wearing saree is how to iron them. Set the temperature of the press to silk and lay the cotton cloth below and only press in reverse. Never splash water directly on the saree or else it will cause stains.
Am I making you fall in love with silk already? Then, you are already a part of this silk journey. Order online silk saree at low prices from LOVZme find multi-coloured, shades of pink, yellow, green, orange and hues that will complement the festival's mood. This spring splash your closet with some silky colored sarees only from LOVZme best collection at low prices.