Are you searching for a breathable summer style? Buy jumpsuits online to beat this 2022 summer hotness. It's cooler to suit up in one piece of material than two pieces of clothing material. Women's jumpsuits have crazy top fans and it's style gets cultivated in every fashion blog and street style photo across this season. Women prefer jumpsuits so often these days because it is easy to wear all seasons no matter what fabric and what season it is. Women prefer to order jumpsuits more because it's a classy alternative to evening cocktail dresses, flared skirts, maxi dresses, and even workwear. Jumpsuits have infiltrated recently on the racks of every store and women are on their marks to buy online jumpsuits right now.
There are a discreet variety of pattern works, neck designs, fabrics to blend with and different ways to style and accessorize when it is about a variety of jumpsuits. One should know how to choose the right neckline that can elevate your neck region and enhance your look. Your face gets featured more and in order to make it look perfect for you to know about these amazing one-piece jumpsuits. At times you can grab bold accessories for your jumpsuits because sometimes jewelry creates its own dimension giving a secondary focus on your outfit. Wearing your hair out also helps to balance the image, as casual jumpsuits display more skin around the shoulders and chest. With a polished updo, formal jumpsuits, which tend to finish higher, look ideal.
Summer state of mind with V – Neck Jumpsuits
V- neck jumpsuits radiate power and classy look with women who have mid length hair and side swept curls.
Westro Blue Floral Print Crepe Jumpsuit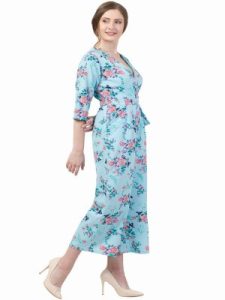 is a light blue V – neck floral jumpsuit, sleeveless and is made from crepe fabric. Jumpsuits made from crepe fabrics give you a slimmer appearance and a graceful look. You can pair this floral crepe jumpsuit with a rounded straw bag and low heeled mules. You don't have to make an effort to iron as they are soft and are comfortable to wear. Make sure when you wear V-neck floral jumpsuits it isn't too tight or too loose for you. If
you wear a completely loose jumpsuit then you will lose your figure. For a more elegant look you can also choose striped V – neck half sleeved jumpsuits and team them with your favorite colored ankle strap high heels and a white clutch. You can also try wearing this with a loose beach waves hairstyle.
Slay the day with these cute round and squared jumpsuits
Find your style whilst dipping in these casual – cute solid colors, a comfy tie-waist version in different fabrics. Round and square neck jumpsuits are best worn with your hair pulled off or away from your face. A round and square neck jumpsuit actually shows off your shoulders that provides a flattering look.
Milkyway Orange Solid Rayon Jumpsuit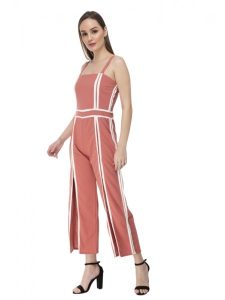 It is a classy ravishing jumpsuit that has leg openings with square neckline, is solid coloured and is fabricated with rayon fabric material.. This squared jumpsuit has broad shoulder straps to showcase your shoulder bones with elegance. Milky way's orange coloured jumpsuit is made from rayon; breathable fabric, soft and easy to wear anytime. Team this jumpsuit with bold earrings to stand out and you can also pull up this style while wearing heels, flats or sneakers.
Weekend mood in one shoulder neck floral jumpsuits
This head-to-toe garment is like a style statement in one cloth. Ditch fancy clothes when on weekend mode and get down to these floral jumpsuits that have one shoulder neck lines. Oh my! Did you want to add this print to your closet?
Westro Multicolor Floral Print Crepe Jumpsuit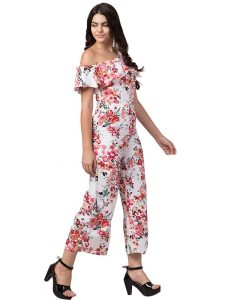 It is made from crepe fabric and has floral print on it with side leg openings. One shoulder neckline jumpsuits make you look staple worthy and extremely sophisticated. So whether you wear ruffled ones or massive bow jumpsuits with one shoulder design you do the sleek version of this outfit. You can wear perfect high stilettos or flats to look super effortless. Depends on which place your mood wants you to be in. You can pair them with tingling earrings and a bracelet with a beige cross body bag. These one-shoulder dresses are more refined than ever. They always end up giving details to make a simple dress interesting.
Pay with happiness when you buy boat neck jumpsuits online India
Jumpsuits are the current fashion scenarios especially when it comes to summer sweaty drools. Strolling around the city and planning for a getaway to a calm staycation? Then you must wear these comfy boat neckline jumpsuits. These are low price jumpsuits. All you need to do is just
buy jumpsuits and your accessories to get the right look. Right accessories get you the right look or else the table tumbles upside down.
SHOPPING FEVER White Polka Print Crepe Jumpsuit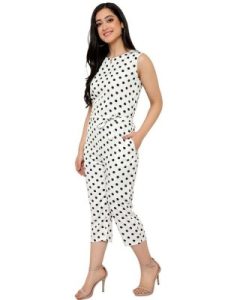 It has a sleeveless design and features a polka dot pattern that lends it an appealing look. This polka dot boat designed jumpsuit is sleeveless which makes it look elegant with its upper detailing and in addition to that it also has an elasticated waistline. It boasts a refined finish as it has been crafted only for you. Boat jumpsuits are accentuated, have a longer hemline and wider hip design. Boat neck designed jumpsuits are created for pear shaped and curvaceous women. Straight hair or wavy hair will look good with this boat neckline. Team it up with a pair of metallic coloured heels and with a sling bag. Pendants or bracelets are totally your choice.
Brush it off with cold shouldered jumpsuits
Jumpsuits are the most versatile piece of garment that you must have in your wardrobe. From attending corporate events to dinner parties you can run through the clock in this piece of garment.
Cold shouldered jumpsuits can be paired with the same print belt and has a side pocket. Classy is when you wear black. Here we have Shaurya-F Black solid Rayon Jumpsuit, This traditional jumpsuit gets a modern makeover thanks to the cold shoulder and ruffle detail. This style appeals to me since it exposes a small amount of skin while maintaining a sleek, classy appearance. With this simple festive appearance, you can easily upgrade your style. When you buy jumpsuits online India plan out your attire, paying special attention to your shoes, jewellery, and a belt, to keep things stylish. After all, this bold look necessitates matching accessories, so pick ones that complement it well. The idea is to locate accessories that can both highlight and break up the monotony of your jumpsuit. You can accentuate your easy going look with stylish curls or by adding waves to your hair. You can also try to accessorize your ear with big round earrings.
Hope these style tips answered what to choose when it comes to wearing jumpsuits! Jumpsuits have a knack to get your eyes downwards so to buy jumpsuits online you can always visit LOVZme as it has all the things you should be having in your wardrobe right now.
Wanna wear these wonderful piece of garments? Shop at LOVZme and buy your collection already!